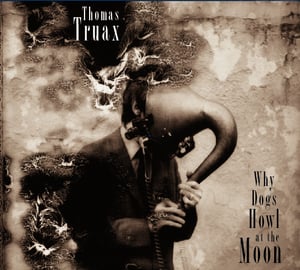 £

10.00
THOMAS TRUAX
"Inventive and Romantic" -Time Out "Genius." -NME
"Thomas Truax won my heart and those of those around me... His songs sparkled, his banter cheered." - Everett True
"The wildly creative and utterly confrontational Thomas Truax is the kind of artist who makes reviewers climb the walls...as they try to figure out exactly what he is doing and who he actually sounds like. The answers to those questions may well be out of reach, as Truax writes and records music that is not easily described or categorized... Like Vivian Stanshall, this man is in a league all his own." -Babysue music review
"You hurt my head so bad I was forced to leave the hall"
-Anonymous comment left by audience member in Truax's email list book after a show in Lisburn
TRUAX'S NEW ALBUM "WHY DOGS HOWL AT THE MOON" to be released on SL RECORDS (May 1)
There's a fine line between the unique and the insane, and it's a line which Thomas Truax (pronounced troo-aks) straddles with his chin held high and 'The Hornicator ' firmly glued to his left ear. His collection of home made instruments look as though plucked straight from the mind of Tim Burton and are combined with loop pedals, guitars and lashings of imagination to create one of the most unusual and entertaining live shows you will ever see. In the studio he builds exceptionally crafted, witty and often touching albums. Splendid magazine calls him "one of the five or ten best singer/songwriters in the world that you've never heard of...an exceptional talent, unique and resistant to comparison, yet fairly accessible even to casual listeners."
2006 was an eventful year for the feisty sonic dreamer. In New York City, following a divorce from his wife of ten years, he found himself without a home and faced legal hassles for 'improper' disposal of his dismantled former 'Space Capsule' sound studio (pieces of which wound up in the very dumpsters from which he'd previously culled parts for notorious self-made instruments like Sister Spinster).
Fed up with U.S. politics in general and disenchanted with the city that he'd loved and lived in for most of his life, he left the United States, like his imaginary Wowtown had done several years before, and toured constantly. For most of the year he lived a true nomadic troubadour-gypsy life on the road in Europe (as a headliner as well as support act for tours with the Dresden Dolls and Duke Special amongst others) He spent time in tour buses, hotels, trains, sometimes sleeping on the floors of promoters, friends and fans. "People outside the tour bus would ask 'Where do you live?' and I'd say 'Here, on this bus, that's it.' Kids thought that was so cool. And it is, for a week or two, then it starts getting very dizzying."
For a portion of the tour Thomas was trailed by filmmaker Adam Clitheroe for a feature length documentary that will be released later this year called 'One Man In The Band'.
All of this adventure, alienation, loss and more is reflected in Truax's extraordinary, most accessible, and possibly most personal third album "Why Dogs Howl at the Moon."
Initial recordings for "Why Dogs..." were laid down at the beginning of the year in the aforementioned NYC studio where Thomas's previous two acclaimed albums 'Full Moon Over Wowtown' (2004) and 'Audio Addiction' (2005, both on Psycho Teddy/Breakin' Beats), had been brought to life. Everywhere he went, he carried these tracks in progress on a portable hard disk, and would work on the album during tour breaks, inviting friends and special guests to contribute to certain tracks in various studios and homes.
Truax now resides, at least temporarily, in South London, where "Dogs" was finally completed in what Thomas describes as "My first bona fide bedroom studio, with adjoining bedroom Laboratory. It's very convenient, actually. I may fall to sleep looking at some unfinished contraption that's giving me trouble, then wake up with a fresh idea, jump out of bed, fix it, and record it all in the same room."
The album launches into a rollicking start with 'Stranger On A Train' , a song about traveling on the british rail system (Truax's preferred mode of touring transport) with driving acoustic guitar and trademark headcold baritone voice backed only by his latest mechanical rhythm contraption Mary Poppins. Minimal arrangements alternate with more lush productions throughout the album. "I don't have any rules when I'm in the studio, " says Thomas. "If a song seems like it wants to sound big, I'll add whatever ingredient I think it needs. I'm not trying to make demonstrations of my weird instruments, they're just there to serve the songs. It's about the music on a song by song basis." Despite such proclamations songs like 'Escape from New York', and 'Why Dogs Howl at the Moon Part 1', are both minimal productions played entirely on Truax's most famous self-made instrument, the Hornicator, and all the sounds on 'You Whistle While You Sleep' are made on another invention, the Stringaling.
Does Truax whistle while he sleeps? "I've been told several times by different people that they've heard me singing in my sleep, just kind of humming lightly."