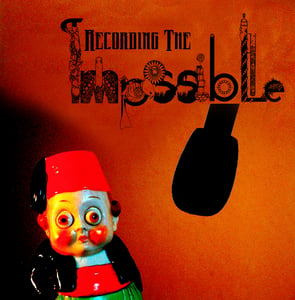 £

5.00 - On Sale
"Five minds, one laboratory, a doctor, a magician, a priest, a scientist, a freak, one mission .......to record the impossible"
"Recording the Impossible" the album is a collection of songs, sketches and poems put to music. The project is the brain child of Paul Vickers frontman of Peel faves Dawn of the Replicants and Paul Vickers and the Leg with significant assistance from Andy Currie art installer for Tate Liverpool and all round handy andy. Impossible is inspired by the likes of Ivor Cutler, the Jerky Boys, Hitchhikers Guide to the Galaxy, Chris Morris and Tom Waits.
The project is being developed by 'Channel K' a production company based in Manchester and a subsidiary of 'Channel X'; famous for bringing to the worlds attention the likes of Jonathan Ross, Vic Reeves and Bob Mortimer. Recording the Impossible first became a contender when an early sketch was short-listed for B.B.7's witty and twisted competition in 2006.Since then it has grown in size, featuring 42 songs and the whole project in its entirety is now longer than "Ben Hur". However, it is admittedly less successful in its portrayal of ancient Rome during the golden age of the gladiator.
"Recording the Impossible the album" is as skilful as any humorous musical comedy concert album of the last thirty years. It wants to take your brain cover it in fuzzy felt and lose it down the back of a harmonium. The album features musical contributions from Dawn of the Replicants, Electric Foot, The Leg, Clutch Daisy and Victor Pope. Why not slide a little impossibility into your lug pipe today. To quote Woody Allen "all art is a footnote to Faust. I have no idea what I mean by that".
Paul and Andy are available for sessions, further interrogation and other pleasures at your own free will...........................the album is merely the tip of the iceberg.